The Canadiens beat the Senators 4-1 in a game that showed how well this team has come together. (They'd make
Viggo
proud!)
yoinked from Habs Inside/Out
But I've still got a couple of questions after this game:
Was anyone actually
surprised
that Jaro Halak was in nets tonight? Because I wasn't, really, and I'm glad that his morale wasn't affected by that messy loss in Buffalo.
Haven't we hit our quota of injuries for the season? Jaroslav Spacek was hit by a puck late in the first period, possibly aggravating an existing injury. Isn't it bad enough that the Habs played without Paul Mara tonight?
What on earth is this Ryan White deal all about? Did the League really ask for him to be removed from the lineup during the game because of a call-up technicality? (I knew such a quick comeback was too good to be true.) Couldn't they have done their research like half an hour earlier? And if White had completed Sergei Kostitsyn's play and scored a goal, would it have been disallowed, as the RDS analysts said it might?
How happy are you that our special teams have finally turned into something special?
Is it just me or are Mike Cammalleri and Tomas Plekanec the ultimate dynamic duo? They have better chemistry than any other pair of guys on the team. (Do we at Hab It Her Way need to stop talking about Cammy and Pleks? Because we really can't help it.)
Speaking of duos, how awesome is it for Josh Gorges that Hal Gill is back? They not only play well together, but they're very good at intimidating other players together as well. Who'd have thought that two of the nicest guys off the ice would be bullying other guys so well at game time?
Did I start thinking about Friday Night Lights as soon as I found out that Hal Gill was quarterback of his high school football team? Yes.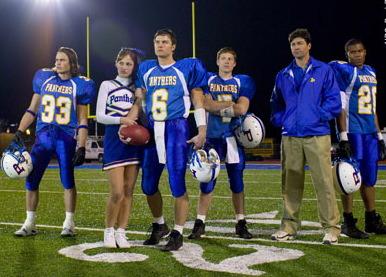 yoinked from tvfanatic.com, which seems to have some pretty awesome FNL coverage. by the way, rent this show during the offseason. honestly. you'll thank me.
How much does Winchester hate his life right now after a puck bounced off his stick on its way into Ottawa's net?
Why is Scott Gomez's empty-net goal only his fourth of the season, especially after such a strong outing tonight?
Is this a new (or old) improved Sergei? He had a big game, with some intelligent plays, a few thrilling almost-goals, a quicker reaction to Spacek's injury than anyone else on the ice (team player!), and he only missed a few minutes of play after his own injury.
And finally... I feel bad completely bashing the other team, so... how much would you love Mike Fisher if he was a Hab? He was Ottawa's best player tonight and he's hella good. If I knew he'd play like that, maybe I wouldn't have made fun of his girlfriend's Christmas special on Fox. (It was out of love, I swear! I actually like Carrie Underwood.)
If you've read this whole thing before Wednesday morning, hats off to you (and thank you!). You're in for a Christmas surprise tomorrow.