In no particular order:
Carey Price at the All Star Game.
P.K. Subban being a celebrity off the ice: from his appearance on Strombo to his fundraising efforts to his new job as a SportsNet analyst. All of it.
NHL players making their yearly holiday visit to children's hospitals despite having no obligation to do so.
Saturday Night Live knowing both when and how to be serious: the children's choir singing Silent Night in honour of the victims of the shooting in Connecticut, the adorable send-off for Kristen Wiig, and the simple memorial for the Beastie Boys' Adam Yauch after he died: just a clip from a past episode where they performed "Sure Shot," in which he calls out the hip-hop world on their disrespectful treatment of women.
The second season of Episodes, which could have been a disaster but was just as awkwardly funny as the first, and a welcome change from most other summer TV programming.
The time I met Jack McBrayer. (Not so much met, as saw him, walked past him, said "Hi welcome to Montreal I'm a huge fan" and he thanked me and walked away and I freaked out a little.)
The time
I met Adam Baldwin
. (I don't think I met any hockey players this year. Sadly.)
The fact that I got to see this Key & Peele sketch performed live, and now everyone knows how funny it is.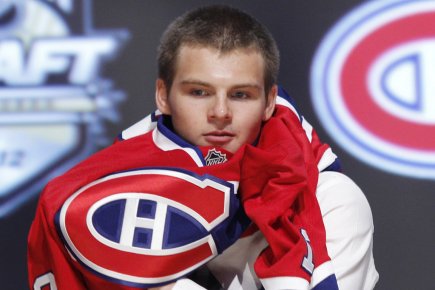 The Habs drafting Alex Galchenyuk, and then the 2012 NHL Draft ending promptly after that, and the Bruins didn't draft anyone. (For the sake of pageviews, I'll mention his name a few more times. Galchenyuk. Alex Galchenyuk, good Gally miss Molly.)
The opening scene of the Mindy Project's pilot episode. A bunch of people didn't like it, and then begrudgingly admitted in, like, DECEMBER that the show was getting better. Clearly they didn't see the same pilot I did. (Honourable mention to Ben & Kate, which did actually have an awful pilot episode, but won me over when I gave it a second chance.)
The AHL games at the Bell Centre that brought Ben Maxwell and J.T. Wyman back to town, and introduced me to my new silent enemy,
Eddie Pasquale
.
Knowing that I'd see hockey, even if there was a lockout, even if I was out of the country. Two of the first things I saw when I arrived in Italy in October: a guy wearing a Detroit Red Wings track suit, and a store whose windows were dressed with pictures of the Vancouver riot couple. I am not making this up. (One of the first things I heard was a Chuck Berry song on the loudspeakers at a train station. Italy is a weird and wonderful place.)
Oh, and a 13th for good luck: Basketball.
Wow, when I look at it this way, 2012 wasn't a complete bore. Then why am I so glad that this year finally moved its lazy ass out of my way?
Best wishes to all of my readers (all one of you) for a happy and, most importantly, healthy new year.