Hanukkah has started, and Christmas is coming up fast (as is Festivus, you
Seinfeld
fans) and we hope that our gift suggestions in the
first
and
second
parts of our Holiday Gift Guide have at least given you some new ideas. But we also know what it's like to shop for your loved ones during the holidays. It's time-consuming, it's stressful, and it can get pretty expensive. It's enough to make anyone wish they were six years old again so that they can make paper snowflakes for their loved ones instead of buying gifts.
We get it. Maybe you're better at arts and crafts than you are at waiting and shoving, or maybe you're a bit pressed for cash or you have lots of people to buy gifts for. We're big on the homemade gifts, as long as they're made with love. And at the end of the day, you love your fellow Habs fans, right? Even if you don't have millions to spend on them?
This idea came about because of Paul Mara's ginger beard, the awesomest beard in the NHL. If you're wondering why I drew extra icing on his arm... it's my weak attempt at drawing a sling on a cookie.
Glen Met looked like he'd make a great gingerbread cookie.

Part III: Let's get crafty, like #14 near a goalpost
... Scott Gomez gifts on a Matt D'Agostini budget
Cookies!
Making the above Photoshop (of questionable quality) inspired me to make special Habs cookies if I get the chance. Put jersey numbers on your gingerbread men! (If you're feeling really artistic, give them home, away, and vintage jerseys.) Make chocolate chip cookies, using red and blue M&Ms or Hershey's Kissables!
Cheap frames
and shadowboxes are available at dollar stores and Winners. (You can also check at craft stores but their prices are usually a bit higher.) Make a one-of-a-kind memorabilia frame! You can use anything:
Postcards or hockey cards
T-shirts and flags
Press clippings
Game tickets
Photographs (if you don't have a superfancy photo printer, take a photo file to a print shop or a photo printing kiosk at the pharmacy or wherever - I'm pretty sure that it's illegal or frowned upon to print a photo that you didn't take, but you can take a chance)
Buy a piggy-bank painting set
(I saw them at the dollar store!) and customize it for your giftee. Some ideas: "Bell Centre Beer Fund!" "Season Ticket Fund!" "[Insert player name here] Fund!" (Ovie doesn't come free, you know) "Blue Retro Jersey Fund!"
Burn a CD
for your giftee! Use their favourite player's "My Playlist" if the giftee hasn't already got all the songs on a playlist of their own, or make them a Bell Centre playlist (Vertigo, Seven Nation Army, Blitzkrieg Bop, that Coldplay song, and whatever else you hear pretty often during games).
Did you ever
make those little reindeer by attaching pipe-cleaners and googly eyes to a candy cane? The Bell Centre Habs Zone has Canadiens-themed candy canes. Just thought you might want to know.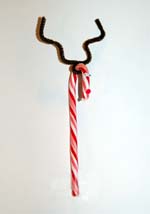 Make Christmas tree ornaments
out of... anything. keychains, mini-sticks, those tiny t-shirt things for car windows... Use your imagination.
Go crazy
at a print shop! Make a customized shopping bag, pillow case, or mouse pad.
For the really crafty:
you can buy sticker paper and print hilarious hockey stickers. Some of the best types of special printing paper (like iron-on transfers and all kinds of stickers) come from a brand called Avery, which probably reminds Scott Gomez of his dark days in a blue jersey. Blech. But still, kids of all ages love stickers, right? One sticker that you can make in multiples and give to all the Habs fans you know: a white letter C. We don't know who the next captain is going to be, but whenever he gets the job, there will be T-shirts that need altering. A "C" sticker will be a good temporary fix until you feel like busting out the fabric paint.
Take it a step further
and use these stickers in some kind of customized gift, like a calendar or something! Find a cheap datebook or calendar and stick pictures of current and former Habs on the dates of their birthdays. One piece of advice, though: do your homework and make sure that all the pictures you stick in after July are of guys that will definitely still be Habs at the end of the summer. I had a pocket calendar for this year (an official one, not a wicked sweet homemade one) and most of the pictures in it are depressing now: Komisarek in October, Bégin on the cover... you get the idea.
Do you have
wicked good Photoshop skills? Or at least, better than mine? Put your loved ones on the ice with the Canadiens... who wouldn't want to pretend they were there to hug Mike Cammalleri after one of his multiple hat tricks this season?
Use our ideas or your imagination, and we're sure that you'll make something great.
Merry CHristmas!
And Happy Hanukkah!
I know I'm not original at all by embedding this of all videos, but it's the best: