Monsieur Béliveau was 83 when he passed away. I knew that he was getting older, and that he wasn't getting any healthier. I still hoped that he would live forever, even though I knew that Habs fans were lucky to have him around for so long.
I know that I'm a few days late with this tribute. I wanted to take the extra time to think about it, to avoid the clichés and platitudes that are so often thrown out there without sincere emotion to back them up. Like any good Habs fan, I loved Jean Béliveau. When I had to choose the greatest Canadian Habs player for
a certain big hockey site
, I almost immediately went with my gut. It was a no-brainer, one of the easiest decisions I've made as a hockey writer. I don't think I can ever say enough about everything he's done both on and off the ice.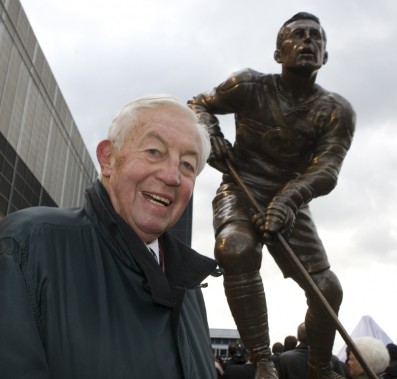 Every time there's a jersey retirement, a montage, anything about the Habs dynasties of the 1950s and 60s, my mom tells me that my grandfather loved those players.
(I've mentioned this already, I know.)
I don't really remember my grandfather talking about them, so all I have are my mother's memories. Seeing Jean Béliveau always made me think of that - my grandfather learning about hockey, living in this city when the Habs won Cups (18 of them, to be exact), and watching them in black and white on his very first television. Béliveau's work ethic, his kindness, his dedication to family - all of these things reminded me of my grandfather. That's why his passing was so difficult for me. I had to say goodbye to not only a great man, but a great man who reminded me of someone I loved very much.
Unfortunately there's nothing I can do now but offer my condolences to the Béliveau family, and hope that someday the hockey world will be lucky enough to see another player like him.
Edited to add:
I found
this piece from 2010
, after he suffered a stroke. I bookmarked it because I couldn't bring myself to read it then, and still can't.