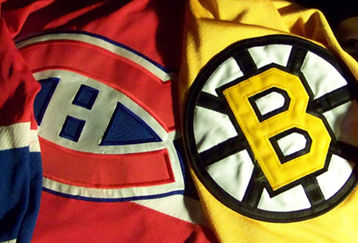 Somehow, it's taken over a month for les boys to hit Boston. It's going to be a big game, obviously, especially for our two newest call-ups, so yes, the HIHW girls are pretty excited. (We haven't seen the Bruins since Montreal got eliminated right around my birthday last season.)
Usually when czechtacular says something before a game, it happens. That's not usually the case for me, since I don't have her Madame Coco hockey abilities, but everyone knows what they want to see during a game, and here's what I'm hoping for:
Obviously, good play from the whole team. We can't depend solely on a goaltender if the rest of the team isn't scoring (see: at least one other game this season). And everyone wants a good show during a Canadiens-Bruins game. Also, we have to win on the road at some point.
This especially goes for the three latest guys to come out of Hamilton. I wouldn't want to be the new guy playing against the Bruins, but I'm sure White, Pyatt, and one-game veteran Carle can handle it.
I hope Brian Gionta's feeling alright. Same for Jaro Halak.
I hope the players who weren't Habs last season pick up the torch and give us a show.
I hope that what people accused Hal Gill of - accidental loyalty to an old jersey - happens to Steve Begin (even though it's been just a tad longer since he wore the CH). I haven't watched any Bruins games yet, and have kind of been wondering what became of the Begin-Chara rivalry.
I hope another Bruin suddenly comes down with a high fever right before puck drop. Not that I don't feel bad for Krejci (I'd definitely feel bad if he played for a team I liked) but maybe this H1N1 can help us out a little, you know, even out the playing field for teams who haven't been hit as hard by injuries and stuff as our team has.
I was kind of hoping that Stewart and Chipchura would be our strongmen tonight, but they're sitting out to accomodate the new guys, so I guess Max Lapierre's up to his old tricks and Mike Cammalleri's got to do the other thing he does best (hitting guys as brilliantly as he scores goals, that is).