Lots of surprises, lots of goals, and lots of wardrobe problems this week when I had to avoid wearing Rider green and Sharks teal, even though half of what I own is one of those colours. But, you know, mostly actual hockey stuff.
PLUS
they see me rollin'...
+
When your teammate is injured, you're supposed to help him in any way you can. Tomas Plekanec did just that for his friend Andrei Kostitsyn. It was super weird, but if rolling your teammate is the best way to move him, then so be it.
+
Tom Pyatt. Scored. A goal.
+
Carey Price almost scored a goal.
+
I already lamented the lack of mustaches post-Movember and
got some love
for my breakdown of Carey Price's mustache. But one thing I didn't get to talk about in my now-famous mustaches post is the Hamilton Bulldogs.
Ben Maxwell, poet laureate.
+
Usually I don't like it when fans boo and act like jerks, but I made an exception on Thursday for what I like to call "Jackass Homecoming." A plus to the Ottawa Senators fans, whose booing of not-so-prodigal son Dany Heatley was the loudest thing I've ever heard during a Sens game. Or in Ottawa, period. Heck, they were louder than the fans who "welcomed" LeBron James back to Cleveland. An additional plus goes to this guy:
This is what it's like when worlds collide.
If I were ESPN, I'd run a one-hour special about LeBron James hater merchandise.
MINUS
Please don't go anywhere
-
Why is Josh Gorges taking therapy days and suddenly appearing to be slightly less than the indestructible iron man we all know he is? I feel like every time a player starts by taking multiple mysterious therapy days, he's about two weeks from sending everything to hell with some awful injury. Please, Josh, say it ain't so. I just wouldn't be able to take the heartache.
-
I already told Lars Eller to stop taking penalties, didn't I? Yes. Yes, I did.
Last week
.
-
I'm glad the Habs recovered from that Oilers loss, because they can't let that happen again. The Oilers are better than they have been in the last couple seasons, thus increasing the likelihood that they can win against the Canadiens and I just can't handle another 7-1 trampling on the road. We stay up late to watch those games, you know. We could be watching Letterman!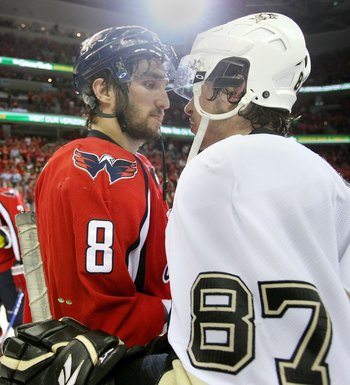 -
Nope, not a fan of the
new Winter Classic commercial
. It has no substance, no real excitement, and the absolutely ridiculous level of love that NHL marketing has for "Crosby vs. Ovechkin" is just... it's getting old. This commercial makes it look like no one else will be doing anything at the Winter Classic. There are two teams in this game, not two players. If I didn't know anything about hockey and saw the commercial, I probably wouldn't even remember which teams were playing. If all you're using to sell something is two sports stars, a football field, and some snow, you could have a great commercial:
-
And finally, the biggest minus of all. Dear person who broke into Pat Burns' widow's car and stole everything: you're going to hell, so it doesn't really matter what I say, but just know that you might be one of the worst people on Earth and if ever you get caught, a lot of people will cause you serious injury. You're probably hoping you never get caught. I'm hoping you get what you deserve.
I'm going to go out on a limb and say that this coming week will be more or less like the last.
But probably with more PK Subban gossip. Make it stop, someone!