Okay, one more round of awards. Nothing like an awards ceremony that overstays its welcome, right?
The J. Jonah Jameson Trophy for Special Achievement in Journalism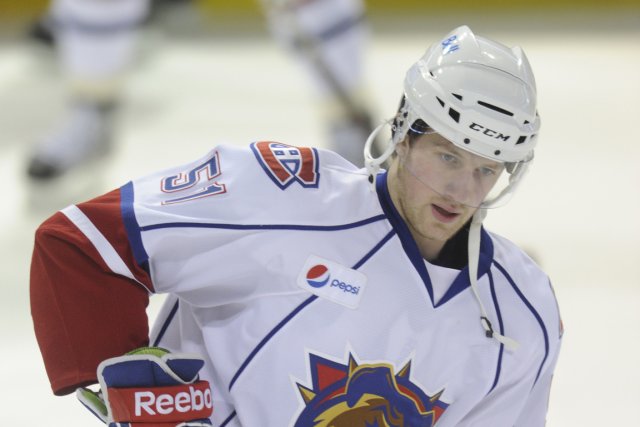 This one goes to
John Buccigross
for his excellent, in-depth piece about
Blake Geoffrion
's life, injury, recovery, and retirement. It made me cry, and it probably made you cry, too. (If it didn't, you might want to see the Wizard about a heart.)
The Gunn Brothers Trophy for Unrewarded Excellence in Television
(Think of this as TV's equivalent of the Jacques Beauchamp)
Columbus Short is so great on Scandal. He really is. I could watch him wear funky suits and talk fast for hours. But, unfortunately, he usually only gets minutes. You see, Scandal was quite occupied with expanding its storylines in season 2, and fleshing out the characters who remained a mystery in season 1. What does that mean for Short's character, Harrison? Unfortunately, not much. He didn't really get to use his fast talking and suit-wearing to its full potential. Which is ridiculous, because he wears suspenders. Suspenders! I've heard that there's going to be more for Short and his suspenders to do in the upcoming third season, and I can only hope it's true because it's a shame to see such a good performance go to waste.
The Tom Hanks Trophy for Best SNL Host
How often will you see a first-time host and musical guest go toe-to-toe with someone joining the Five Timers Club? It's a tie between Bruno Mars' classic showmanship and Justin Timberlake's appointment television. No, seriously: Most people make plans to go out on Saturday nights. My friend and I made plans to stay in and watch JT on SNL. And Bruno Mars' turn as host was the last push I needed to decide for sure that I wanted to see him in concert as soon as he came to town, no matter what. (Which I did, and now part two of the Bell Centre concert sequel to this will be the Justin Timberlake concert on Halloween night.)

The M. Night Shyamalan Trophy for Biggest Shock of the Offseason
The only time I will ever use a photo from Perez Hilton
The M Night Shyamalan goes to.... M Night Shyamalan! WHAT A SHOCKING TURN OF EVENTS. Can you believe that he claimed to have ghostwritten She's All That? It was probably the randomest and funniest news story of the summer.
(The other biggest shock of the summer involved Jarome Iginla and please, let's not talk about that.)

The Ben & Jerry's Trophy for Best Thing About The Offseason
Without a doubt, this trophy has to go to Jay Baruchel's Just for Laughs gala. JB making his entrance in a Subban jersey! Surprise appearances by Youppi! and Chris Nilan! A video address from Geoff Molson! A spoken-word poem about corrupt local politicians! A completely solid lineup of comedians! It was the best thing to happen at Just for Laughs this year outside of my shaking Seth Meyers' hand.
The Lumiere Brothers Trophy for Best Animated GIF
Champagne for my real friends; real pain for my sham friends.
This was a late entry to the competition, but the Hawks are pretty good at winning things at the last minute.
I'd invite Patrick Kane to the HIHW Awards afterparty, but I don't have that kind of budget.